By Mike Wahmann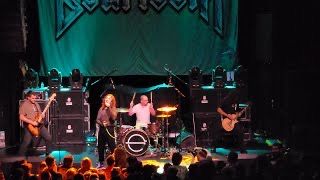 August 31, 2022 - This podcast has given me an opportunity to connect with some amazing people and is now giving me some amazing opportunities to attend events.  Over the height of the COVID-19 pandemic, we connected with people via the computer but now that the world is beginning to open up, we are getting to meet these great people, see them live and hang out in person. I was fortunate enough to get to see our one time guest Josh Kincheloe from Glasslands open as sole-support for the mighty Beartooth.   
Over the years, between the high costs of venue rentals and a complete lack of radio presence New York has been a hard area for modern rock and metal bands to hit.  But this night was different.  It didn't seem to matter as the rock and roll megaforce, Beartooth was in town and they sold out the small (as compared to the venues they normally play) Gramercy Theater.  I've been there many times before but this time it was absolutely packed to the gills.  But it was clear to me, that those in attendance did not know how stacked this two-band bill actually was. 
The lights go out and hush goes over the crowd as an ominous bassy-synth pad shakes the room.  The openers take the stage and the lead singer makes a call to action…  "NEW YORK CITY!"  Glasslands rips into their opening song, "Beggar" and the crowded Gramercy Theater comes unglued!  The once docile crowd awaiting their beloved headliners are now completely immersed in the experience that is Glasslands. 
Their energy was infectious and the crowd was sucked completely into this live show as Kincheloe called out again "How we doing, New York!?"  This night was special.  You could tell it was.  The first chorus hit as the band and crowd headbanged in unison.  By the second song, "Mr.Creeps" you could tell that this band was not letting up and they would be maximizing their minutes tearing through a set composed of mostly songs off their latest record, "The Deep." 
This band does so much in their music.  It's heavy, it's hooky, it's got ambience and most importantly, it's got a lot of heart.  They completely set the tone for the night.  The pit moved, the people cheered and they won over the initially tired, mid-week-Wednesday-night NYC crowd with bangers such as "Bury My Flame" and "Mad."  By their closing song "Secret," Glasslands have set the bar.  They've created the vibe for the night and further supported my statement: Make sure you go check out the openers.  You never know whether or not you'll find your new favorite band. 
I got a chance to catch up with Josh before Beartooth played.  He seemed energized by how well the band was received in New York City.  He was excited to finally start getting into that touring–vocal-groove.  Especially considering he had taken on a longer than usual 40-minute set for the duration of this run.  It was clear to me that he was ready to win over these crowds and move on to their next leg with Dragged Under and our buddies in Rivals. 
If you have a chance to see Glasslands, make sure you do.  I know it might require you to get to some shows early, but it's totally worth it.  And when you do, tell them your buds at Bacon is My Podcast sent you…and hide a gnome in their stuff.  :-)